Join YMCA of Okanagan and UBC Faculty of Health and Social Development to celebrate the launch of the Small Steps for Big Changes program launch at the Kelowna Downtown YMCA.
Small Steps for Big Changes is an evidence-based lifestyle counselling program that can help people make lasting dietary and exercise changes in order to lower their risk of developing type 2 diabetes in the future. The primary purpose of Small Steps for Big Changes is to help you make changes to your exercise and diet and to stick to these changes long-term.

Featured Speaker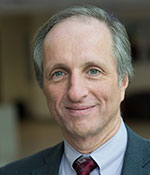 As one of the most pervasive diseases of the 21st century, diabetes accounts for a large portion of all heart attacks, strokes, and deaths from cardiovascular disease. Join guest speaker Dr. Gerstein for his talk A New Paradigm for Managing Type 2 Diabetes: The Promise of Remission.
Dr. Hertzel C. Gerstein is an Endocrinologist and Professor at McMaster University and Hamilton Health Sciences, where he holds the Population Health Institute Chair in Diabetes Research. He is also Director of the Division of Endocrinology & Metabolism, Director of the Diabetes Care and Research Program and Deputy Director of the Population Health Research Institute.
From the prevention and therapy of diabetes to the role of dysglycemia and relative insulin insufficiency on the development of diabetes, cardiovascular disease, cognitive impairment, and other chronic conditions, Dr. Gerstein's research has had a significant impact in the medical community. Aside from his global exploits, Dr. Gerstein is also founder and director of Diabetes Hamilton, a novel, community-based resource that is helping thousands of Hamiltonians better manage their disease. His research spans over 50 countries, and has been funded by the Canadian Institutes of Health Research, the National Institutes of Health, the Heart and Stroke Foundation, the Canadian Diabetes Association and Industry. Dr. Gerstein has published more than 200 papers, editorials and commentaries.
Register at: https://smallstepsforbigchangeslaunch.eventbrite.ca